Shenzhen Rewoda Electronics Co., Ltd It is a high-tech enterprise focusing on the R&D and manufacturing of consumer electronic terminal charging power products. The company adheres to the business philosophy of "focusing on pragmatism", insisting on the "craftsman spirit" of persevering in details, and is committed to providing customers with one-stop charging power products Solutions (from concept molding to mass production).
The company was established in 2003. In 2012, the company invested in the construction of a production base covering an area of ​​nearly 50,000 square meters in Ganzhou City, Jiangxi Province. It was put into mass production in 2014 with a monthly production capacity of more than one million. The series of products cover household, travel, commercial, automotive and other application scenarios. In recent years, it has continuously increased investment in the field of rapid charging technology R&D and design, led innovation and in-depth and close cooperation with many brand customers and channel customers.
The company is headquartered in Shenzhen, with R&D, sales, supply chain management, after-sales support and other departments. We always adhere to all customer-centric concepts, adhere to the "focus on pragmatic and paranoid service" culture, and continuously improve with management innovation and technological leadership Quality, optimization plan and cost, sincerely provide customers with cost-effective, high-quality products and services.
20W fast charge series
Features:
The latest upgrade of 20W fast charge, the appearance is round, the hand feel is delicate, the use of high-performance materials, the energy efficiency conversion rate is high, the low temperature fast charge, not easy to get hot. Single C/A+C two sets of outputs are optional, support iPhone12 5V3A/9V2.22A fast charge. Foldable pins for easy carrying. Can be matched with global interchangeable plugs.
65W/100W 2C1A1 HDMI multi-function fast charge (with data + screen projection function)
Features:
Charging + data + projection screen multi-function fast charging, multi-scene use, charging computers, mobile phones, Nintendo game consoles while supporting projection screen, it can also meet the data transmission and power supply of U disk, mouse, gamepad, keyboard, etc.
65W 2C1A GaN (gallium nitride) charger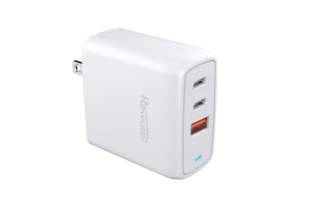 Features:
Gallium nitride technology ultra-small fast charging, new appearance patent design, PC flame-retardant material, matte matte surface effect, delicate hand feeling, 65W power covering notebook, tablet, and handheld charging needs, and can be matched with global interchangeable plugs.
65W fast charge series
Features:
Multiple output options are available, fixed plugs and replaceable plugs in various countries, new appearance patent design, PC flame-retardant material, matte matte surface effect, delicate touch. The 65W power covers the charging needs of notebooks, tablets, and prototypes, and can be equipped with global interchangeable plugs.
Introduction of core competitiveness:
●The number of factory employees exceeds 600, including more than 30 R&D technicians
●Continue to increase R&D investment and continuously optimize product costs and solutions through technological innovation
●The factory covers an area of more than 50,000 square meters, with advanced SMT production lines and automated production equipment
●Passed ISO 9001 and ISO14001 certification, WPC member
---
Post time: Aug-13-2020